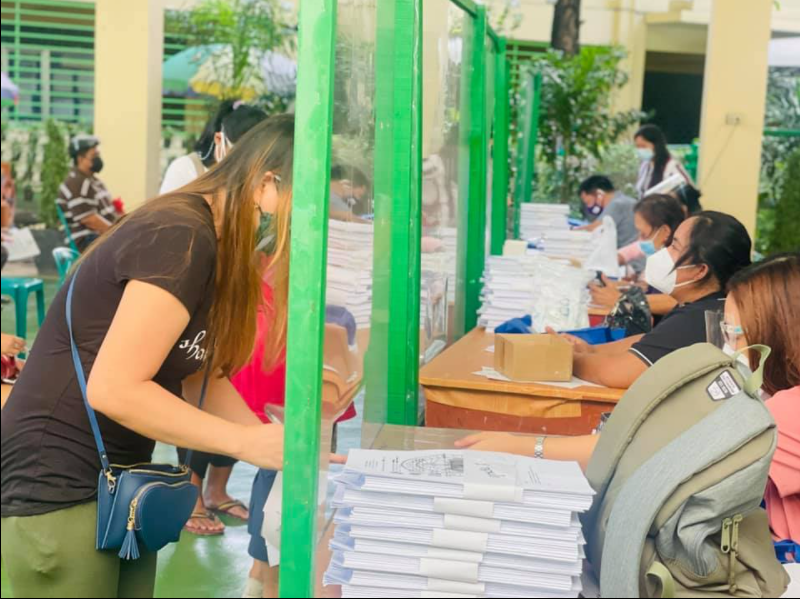 DISTRIBUTION OF PRINTED SELF-LEARNING MODULES (SLMs) AND LEARNING GADGETS FOR 1ST QUARTER School Year 2021-2022 September 16-18, 2021 @ 8:00 A.M. – 12:45 P.M.
-By: Mr. Marlon B. Curato

As the Philippines continues to face lockdown regulations and restrictions, the education sector faces an uphill battle in fulfilling its mandate of educating children during a pandemic that shows no signs of dissipating.
Relative to the implementation of Basic Education Learning Continuity Plan Adjustment (BE-LCP) under the Learning Delivery Management System, Parañaque National High School – Baclaran conducted the distribution of printed self-learning modules and learning gadgets to the parents and guardians of students without gadgets, as identified in the LESF on September 16-18, 2021, at the school gym. Hence, Mr. Gliender V. Ranoco, Asst. to the Principal for School Governance and External Linkages, was directed to mobilize the group of teaching and non-teaching personnel listed herein to man the said activity.
Learning gadgets such as tablets and smartphones were given to selected Grades 7 and 11 students, respectively, while On-the-Go (OTG) was given to Grades 8 and 9 students. Only those parents/guardians who signed the Katibayan ng Pagtanggap ng Gadyet and Property Acknowledgment Receipt (PAR) were eligible for the learning gadgets. This activity ensures learners' access to quality digitized learning resources which may be utilized offline.
Parents and guardians were assisted by some school personnel as they entered the school premises while wearing their face masks and face shields as a preventive measure that should be observed while inside the school gym. Forms like Inventory Custodian Slip, Kasunduan Slip, and QR Code Slip for Contract Tracing were distributed and filled out by the parents for documentation purposes. Interval disinfection of the school grounds, social distancing, and other strict protocols and restrictions were still observed to avoid the spread of the virus.
Expenses relative to the conduct of the aforementioned were charged against the school MOOE fund subject to the usual accounting and auditing rules and regulations.
The 3-day activity was successfully administered through collaborative and cooperative efforts of assigned personnel, members, and selected advisers.